Detroit by Bike
June 2012, Spencer Schaffner

In June of 2012, I spent two days in Detroit on my bike. It was just two days, so feel I hardly know anything about the city, but I did see a few things on my rides. Having heard so much about both the demise and the rebirth of Detroit, I wanted to check it out.

Bike = recently acquired green Raleigh

Goals = ride around & possibly find some tasty beer


Ride 1, Day 1
On the first day, I set out to explore the areas near downtown, traveling over to what's called "the Cultural Center," then back to downtown, along the river to the east, then over to Belle Isle. It ended up being about 21 miles before lunch. Oh, and it was freaking hot.

This was a nice ride that I would definitely recommend. There are various bike/walk trails along the river, and the island is pretty interesting. The day I was there it was a mix of people fishing, hanging out, a few people cycling, and then kids playing. As others have commented, the infrastructure in Detroit was set up for major amounts of traffic with very wide roads and plenty of parking. This seemed to mean that there is usually plenty of room on the roads for bikes.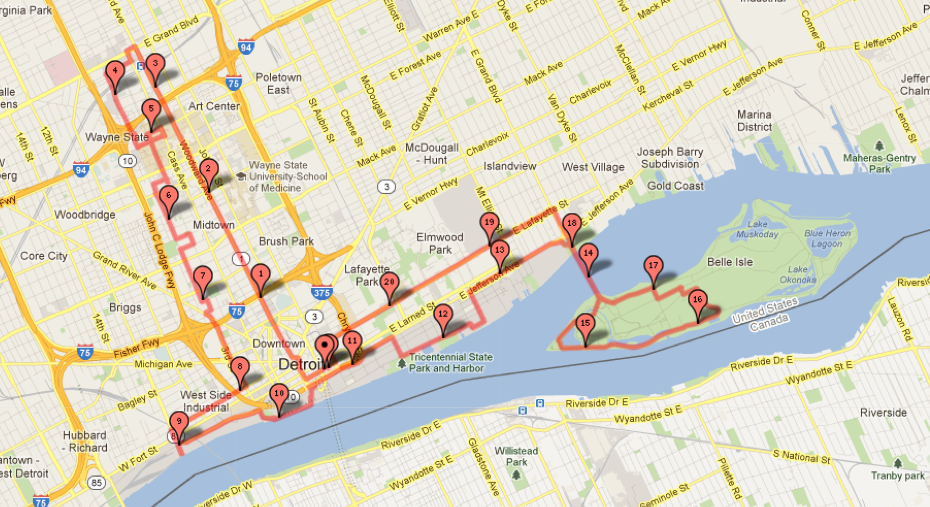 Ride 2, Day 1
After lunch, I read a bit more online about the old Packard Plant and decided to ride over for a look. As you probably know, Banksy ("I remember when all this was trees") is just one of the graffiti artists known to have done work at the plant.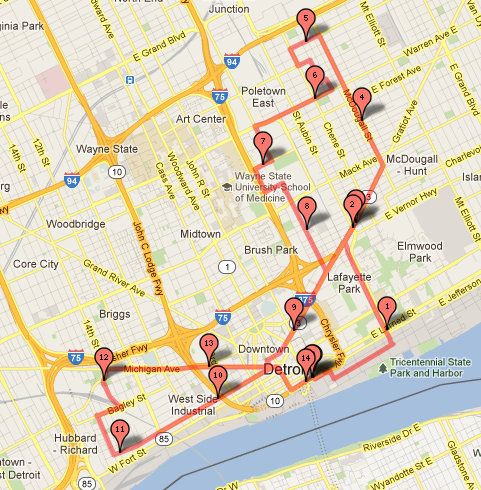 As you might be able to see on the above rough-route map, I took the Dequindre Cut Greenway bike trail, which is a rails-to-trails thing, and quickly found out how short it is. Nice graffiti down there, though, and I had the entire trail to myself.

This is kind of funny: at left (below) is a picture of the Dequindre Cut Greenway bike trail that the Detroit Riverfront Conservancy has on their website about the trail; at right is what my view looked like. As you can see, I was the only one there. I think they were hoping the Cut would end up being a bit more of a draw than it is.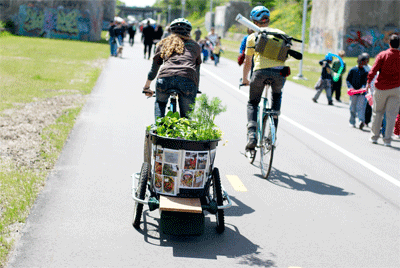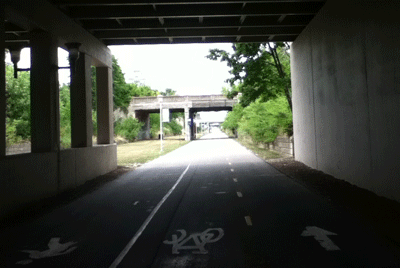 Here's my Raleigh alongside some graffiti in the Dequindre Cut. It rode pretty well, though the fenders need some tuning.


After coming out of the extremely short Dequindre Cut Greenway, my back wheel seized up. Exciting! I ended up at Busy Bee Hardware where I dropped six bucks on an adjustable wrench that set things straight. I guess I should have brought some tools with me, but Busy Bee was well worth the diversion.

Anyway. The rest of this ride involved an exploration of various warehouses and abandoned factories north-east of town. The entire area near the Packard Plant is worth exploring. Aside from a few scappers, I didn't see too many people. I also chanced upon a large, gated-garden, which I seem to have lost my picture of.




The above pic shows the old rail line that the Dequindre Cut Greenway bike trail is based on. If the trail extended a bit farther to the north, it would go through this area.




The smoke in the background was from a warehouse fire across town. The fire department is certainly busy in Detroit.


Ride 3, Day 2
Okay, so it was my second day in Detroit and I need to see more of the town. Specifically, I hadn't ventured too far to the west or north of downtown. As you can see on the map (below), I made a ragged loop. This started me out in Southwest Detroit (called "Mexicantown" on most maps), wound me through various neighborhoods, and ended me up riding through Highland Park and the North End. This was probably my most interesting ride (something like 25 miles) of the two days, as the neighborhoods were so incredibly varied.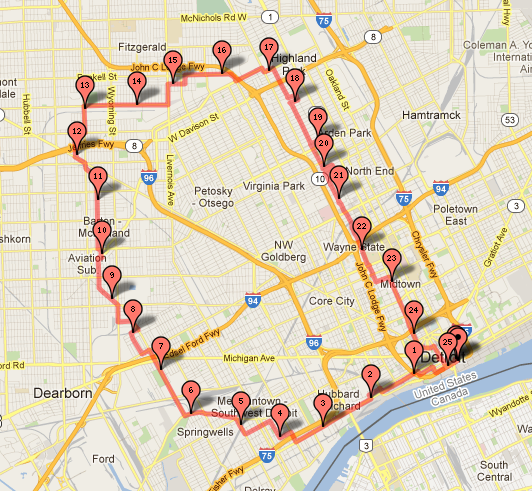 Down in Southwest Detroit, I happened to ride by one of Detroit's metal yards. Having seen several scrappers pulling metal out of buildings the day before, it was worth seeing where all that iron ends up.




Near the highway, an improvised trash dump on the edge of one neighborhood.




Detroit is absolutely teeming with photogenic instances of architectural decay. At one point, in an abandoned warehouse district, I heard something, turned around, and saw that it was another guy taking pictures.




As I mentioned, this ride took me through Highland Park—a neighborhood full of contrasts. The following picture, borrowed from Google's Street View, pretty much summs up a lot of what I saw in Detroit: contrasts. Here you see a lovely home flanked by two that are in advanced states of decay. Burned-out houses are on every block in some neighborhoods, as are empty lots. Yes many lots have been transformed into gardens; many more have not.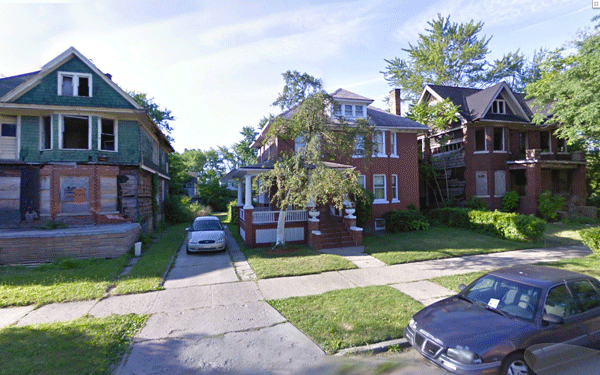 Ride 4, Day 2
There's not much to say about my last ride in Detroit: after eating some lunch and chilling out, I rode over to Moter City Brewing Works to try out their beer. I think I caught them on an off day, because the ale wasn't the best, but it was certainly a good place to reflect on some rides in Detroit.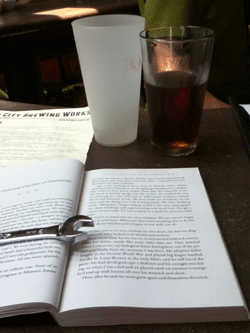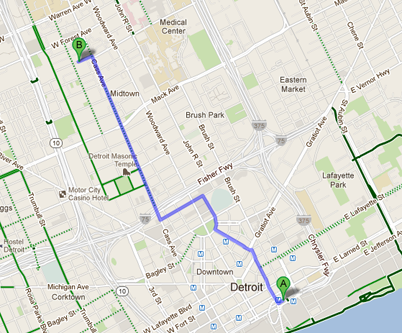 ..........................



site created 1.2013 just for fun by spencer